DIY Custom Die-Cut Roll Labels
Use your own artwork to create labels in custom shapes and sizes. Choose from 4 unwind directions and quickly apply labels with label applicator.
DIY Custom Die-Cut Roll Labels
Upload your own custom design!
Can be custom cut in whatever shape/size you want (within size restrictions)

Maximum size: 11" x 11" (121 square inches)
Minimum size: 0.5" x 0.5" (0.25 square inches)

Labels are made from BOPP (Biaxially-Oriented Polypropylene)
Laminated to create a glossy finish
Minimum roll size: 250 labels
Four wind directions available
Scratch, Tear, Water, Fade and UV-Resistant
Labels are permanently applied with label applicator
Printed on a 4-color digital press (CMYK)
Meet all safety/environmental quality standards in the United States and Europe
Complimentary proof included with each order
How to send the artwork for your custom-shaped labels
Your artwork for a custom shape must be a vector file.
Include the clipping path for how you want your label cut out in your file.
Don't worry if you don't understand what to do — just contact us and we will be happy to help you!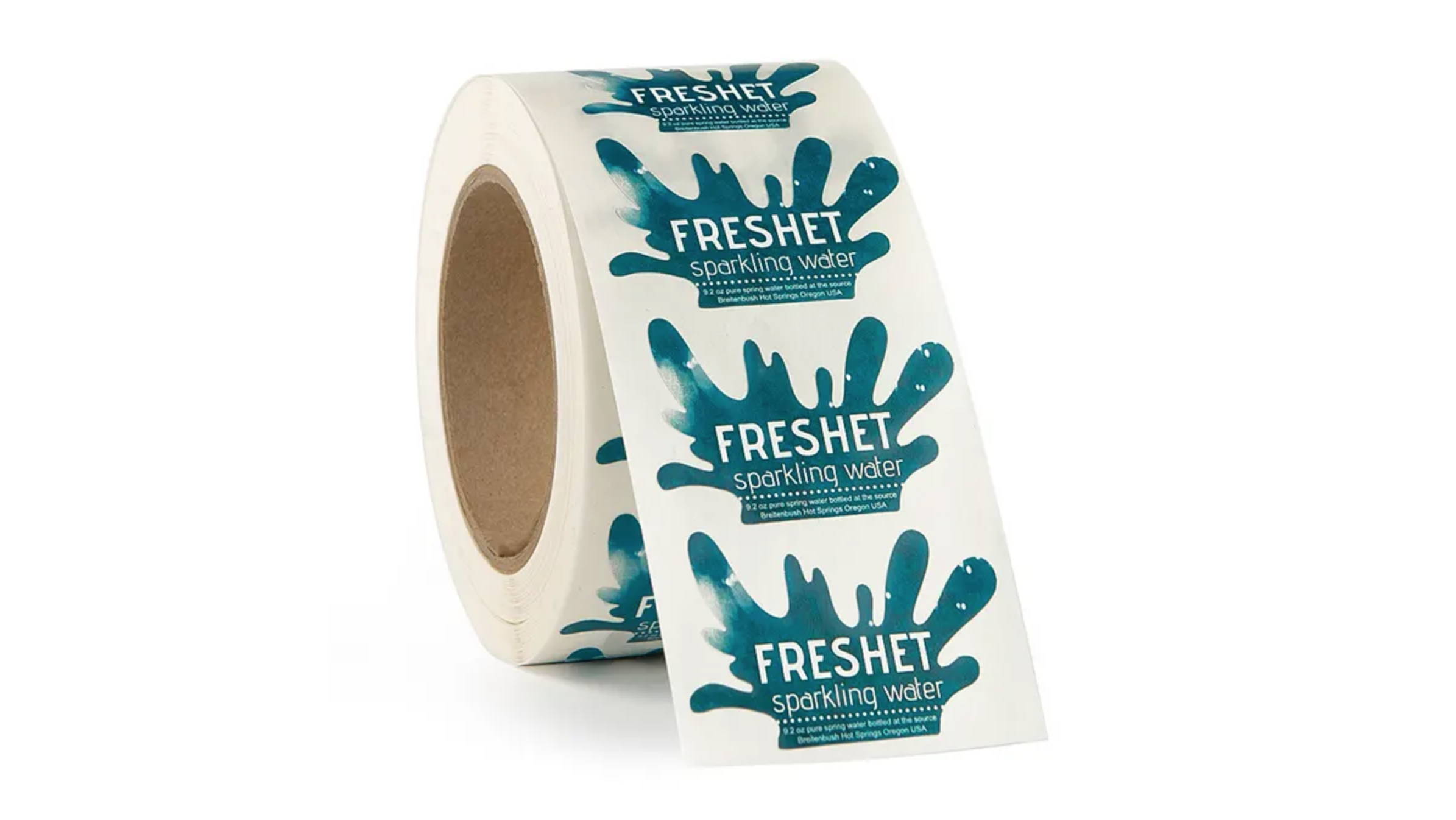 Can full wrap (360°) labels be made?
None of the labels are designed specifically to be wraparound labels.
Label shape 19 (7" X 1 7/8") is the closest to a wraparound, and is designed for a bottle of water, or for bath and body products.
What is the largest label available?
The largest possible is 11" x 17". The largest currently offered is 4" X 3 1/4" and 7" X 1 7/8".
Custom and photo labels available
What is the minimum order requirement for labels and tamper-evident strips?
The MOQ for custom labels is 1 sheet of labels.
The MOQ for tamper-evident strips is two sheets of strips.
What size/resolution is required for picture labels?
At least 500 x 500 pixels / 300 DPI resolution.
A minimum 1/8" bleed is recommended.
If I use the custom label tool on the website, how will I get my labels?
The containers will arrive undecorated and labels will be shipped to you separately.
How long will it take to receive my labels?
After submitting your order your labels should arrive within 7-10 business days.
I already have my container, how do I pick a label size and shape?
I love my labels! How do I reorder?
Please contact our friendly Customer Care Advocates at 800.363.9822 to reorder your labels. You will simply need your reference ID in order to locate your project.
How do I apply my labels to the container?
You can manually apply our sheet labels with an easy two step process. Simply peel the labels off and stick them to your container. You don't have to be perfect on your first try, our high-quality vinyl labels are easy to remove and reapply to get the placement just right. Roll labels must be applied with a labeling machine.
What roll/core sizes are available?
3" standard core
Additional options available upon special request.
What is the "unwind direction"?
Unwind direction (or wind direction) refers to the orientation of the labels as they come off of the roll.
The label industry has developed standard descriptions for the various unwind directions to avoid any confusion when applying labels by machine to ensure the product and labels are properly aligned.
If labels are applied by hand, the wind directions can be disregarded.
There are 8 different unwind directions, - 8 different ways we can 'wind' the labels onto the rolls. Refer to the industry standard rewind directions.

Unwind direction number 3 is most commonly used, our rolls will be set with option 2 or 3 as the default.

We can print and unwind/rewind in any direction via special request.
How many colors can I print?
Our 4-color digital process prints in fine detail and can print in all colors.
Will my dispenser work with these roll labels?
Test all labels with your machine before going into production.
We have removed the matrix (the outer part around the label) to make it easier for label machines and dispensers to grab the label off the roll to apply.
What is the bleed area for custom labels?
We suggest 1/8" (0.125") bleed on all custom art.